SSL de Validación Extendida
Active la barra de direcciones verde para obtener la mejor confianza y conversiones
¿Qué es SSL de Validación Extendida?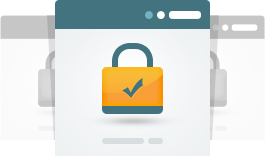 EV SSL es un Certificado de Validación Extendida, la clase más alta de SSL disponible hoy en día que le da más credibilidad y confianza a su sitio web, en comparación con el uso de un Certificado SSL validado por Organización o Dominio.
Un Certificado de Validación Extendida activa la barra de direcciones verde y muestra el nombre de su empresa u organización en la barra de direcciones del navegador. Estos prominentes indicadores de seguridad visual permiten a los visitantes saber que se han tomado pasos adicionales para confirmar el sitio que están visitando, aumentando la confianza del usuario en su sitio web y su credibilidad. Por eso la mayoría de las grandes empresas y organizaciones eligen certificados EV.
Recommended Use Cases
Business-critical
domains
eCommerce
New account
signup pages
Contains Your EV Authenticated Organization Details
Certificate details indicate your website is using an Extended Validation SSL Certificate and include the issuing CA, validity status, and expiration date.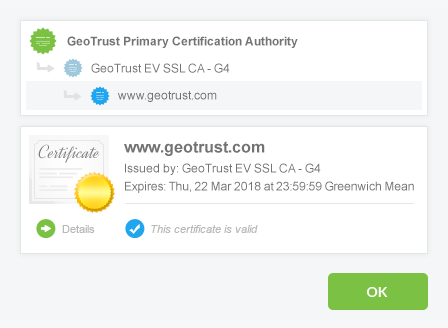 Prominent Visual Identity
Increase trust and confidence in your website with full identity verification and prominent visual features.
Trust Site Seal
Our SSL Certificates come with a trust seal that has been proven to increase visitor confidence and customer conversions.
$1.5m Warranty
EV Certificates come with a $1.5m warranty that covers data breaches caused due to a certificate flaw.
Certificate Features
Secure online transactions
99.9% Browser Compatibility
Our SSL certificates are from some of the most trusted brands in Online Security.